Already this year has flown by and we have been quite busy. Just this last week there was maintenance on a 200' tower and replacement of a backhaul wireless radio, connectors and cable that had gone bad. The cable had a slice in it and the torrentials rains had filled it with water causing a short. We are continuing to prepare for PNG. It has been a long wait but together with the IBM team a summer installation looks great. Check out the PNG column for some answered prayers from Brother Brad Wells. Thank you for all your prayers and support!
---
I went to the national licensing authority?s office in our capital, Port Moresby, with trepidation. This visit would determine whether Bible FM?s upcoming launch to the two largest cities, Port Moresby and Lae, would proceed this year. As we pulled up to the office, the director was waiting just inside the door to meet me. That was a good sign. I rolled out the plan: Port Moresby, Lae, Kodidanga, and Hela Province in 2013. Five other downline stations in 2014 and, Lord willing, five more in 2015. The director listened with interest and explained the steps we must take to make Bible FM a nationally syndicated station. With whole-hearted consent, the licensing authority gave their approval for Bible FM to proceed. In this conference I was put in contact with a Christian customs agent who will be able to get the container imported, Lord willing, duty free. Your prayers are being answered! Perhaps a bit slower than we planned, but yet we see God?s hand working and things unfolding in His time and way. Thank you for standing by us in this effort.
---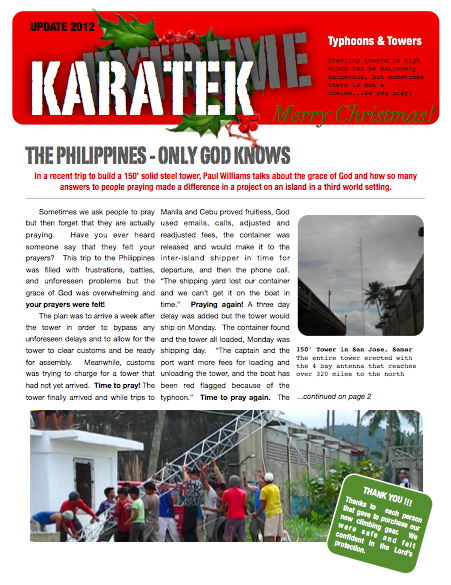 ---
NEW TOLL-FREE NUMBER
1-800-RADIO-42
Please make a note of this new number. This number works for both VOICE and FAX. We are trying to set up a better service for you, especially as we approach the LPFM filing window in October. If you have any questions please give us a call!
Statement Of Faith
The following points are a summary of KaraTek International's Statement of Faith. Please read this carefully and contact us if you have any questions regarding any of the points. If you require our complete Statement of Faith, including scriptural references, we will be happy to provide it for you.
The Holy Scriptures: We believe the Holy Scriptures of the Old and New Testament to be the inspired, preserved Word of God. The Scriptures are inerrant, infallible and God-breathed, and therefore are the final authority for faith and practice. The sixty-six books of the Old and New Testament are the complete and divine revelation of God to man.
The Godhead: We believe in one Triune God, eternally existing in three persons: Father, Son, and Holy Spirit.
The Person and Work of Christ: We believe that the Lord Jesus Christ, the eternal Son of God, was born of a virgin and died for our sins and accomplished our complete redemption, is now raised from the dead and is now exalted at the right hand of God.
The Holy Spirit: We believe that the Holy Spirit is a person who convicts the world of sin, of righteousness, and of judgment, and that He is the Divine Teacher who assists believers in understanding the Scriptures.
The Depravity of Man: We believe that man was created in the image and likeness of God, but that in Adam's sin the human race fell, inherited a sinful nature, and became alienated from God.
Salvation: We believe in salvation by grace through faith in the Lord Jesus Christ and that it does not depend on any works of man, and our salvation is kept by His power.
The Priesthood of the Believer: We believe in the priesthood of all believers; that Christ is our great High Priest and through Him every born again person has direct access into God's presence.
The Local Church: We believe in the importance of the local church and that this is God's New Testament institution to accomplish His will. KaraTek serves local churches with services to assist them in accomplishing their God-given mission, and is not in any way a substitute for a local congregation of believers. All KaraTek employees are required to be a member of a local church that agrees with this statement of faith.
Separation: We believe that all the saved should live in such a manner as not to bring reproach upon their Savior and Lord.
The Second Advent of Christ: We believe in the second coming of Christ, which has two distinct phases, first for His Church, then to be Judge and King of this earth.
The Eternal State: We believe in the bodily resurrection of all men, the saved to eternal life, and the unsaved to judgment and everlasting punishment.
The Personality of Satan: We believe that Satan, the devil, is a created being who fell from his original state and became the author of sin and the cause of the fall of man.
Creation: We believe that God created the universe.
Missions: We believe that God has given the church a great commission to proclaim the Gospel to all nations.
Giving: We believe that every Christian, as a steward of that portion of God's wealth entrusted to him, is obligated to support his local church financially, and as moved by the Spirit of God, to support those engaged in spreading the Gospel to this world.
FACEBOOK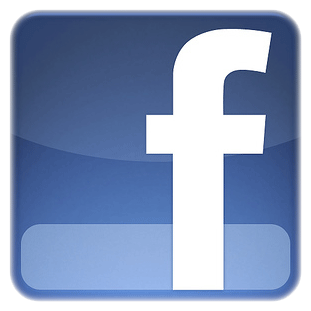 Click Here! to see our page
---
If the Lord lays on your heart to donate to the ongoing ministries of KaraTek International, all transactions are secure, and tax deductible in the USA.